Flame Retardant White Tarp
White flame retardant tarps are an excellent water proof polyethylene tarp for providing some shade, yet allowing natural light through. Good for areas that you need the light such as weddings tents, reception canopies, vendor booths, work areas or just when white is the color of choice. Constructed with 12X14 mesh and UV treated.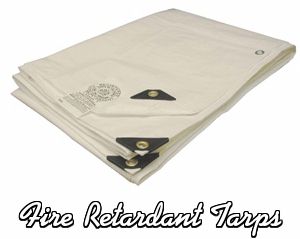 Actual sizes are 4" to 6" shorter in length and width than order size.
All tarps are subject to have a heat welded seam.
White Flame Resistant Tarp Specifications:
12 mil thickness
12X14 mesh count
1200 Denier*
Polyethylene ( Poly Tarp )
Flame Retardant Compliance Tag attached to Tarp.
Meets NFPA 701, CA Title 19, and CPAI 84 Flame retardant specs.

White 3 ply material
UV Treated - For Longer Protection
Corners reinforced and hemmed edges
Rope reinforced edges
Grommets are approx. 18 in. on center
Water proof, mildew and rot resistance
Arctic flexibility
*Denier = A term used to indicate the size or number of filament or yarn. The higher the number the heavier the yarn or fiber.