Rolling Firewood Cart
Creative Shelters offers a wood storage option for every situation whether you are looking to store a small amount of firewood by your door or large amounts all year round in your backyard. Transport wood from one to another with a Shelterlogic Wood Mover. Cover your firewood in the winter months with a Full Length Firewood Rack cover. Storing and transporting firewood has never been easier.

Tips to great firewood storage success:
Keep Firewood Elevated

- If your firewood is on the ground it will decompose and can not be used.

Air Circulation is Necessary

- The best way to season firewood is in a wood storage rack with ample access to sun and air.
Viewing

1

to

1

of

1

items
Sort by:
Display
results per page
/category/rolling-firewood-cart
9
sku_asc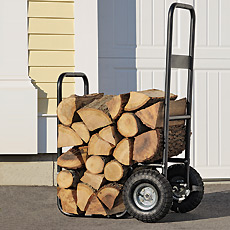 Shipping Included:
Shipping charges are included in the price. Return shipping is the customer's responsibility.
Description:
Ready-to-roll multi-purpose Wood Mover, assembles with ease. Super sturdy frame design and all terrain tires make this mover a must have for moving wood and other large loads.
Premium Steel Frame - Heavy duty tubular steel construction. Durable all-steel frame is engineered for extra strength to handle the load.
DuPont™ Premium Powder Coat Finish - Strong finish resists chipping, peeling, rust and corrosion.
Slim Fit Design - Built to go practically anywhere - fits through door frames or deck entries with ease.
Easy Tilt Pivot Point - Makes moving full load of wood with minimal ease and effort.
Pneumatic Tires - Allows for easy rolling over tough terrain, up and down stairs. Extreme tread pattern takes on sand, loose soil, snow or rocky conditions.
Package Includes
(1) Round 1" / 2,5 cm Tube Frame
(2) Pneumatic 10" / 25,4 cm Tires
Hardware - Tools Included
Easy step-by-step instructions
Product Specifications
Total box weight: 27 lbs. / 12.3 kg
1 Box
Viewing

1

to

1

of

1

items
Sort by:
Display
results per page
/category/rolling-firewood-cart
9
sku_asc