Green PVC Vinyl Tarp
Heavy Duty Green PVC Vinyl Tarps are an excellent water proof tarp for applications where durability and long life are a must. The vinyl fabric is waterproof, UV resistant, and tear resistant. The edges and seams are heat welded and grommets are approximately every 18". This is a 13 oz, 18 mil thick PVC Vinyl fabric. All tarps finish approximately 4" - 6" shorter than the stated cut size. Excellent for industrial uses, or on canopy structures that are reinforced with rafters no more than 5' apart (due to the weight of the tarp).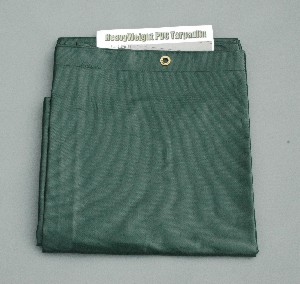 Actual sizes are 4" to 6" shorter in length and width than order size.
All tarps are subject to have a heat welded seam.
Green PVC Vinyl Tarp Specifications:
13 oz weight

18 mil thickness

PVC Vinyl fabric

Shrinkproof

Ultraviolet 3% treated

Dark green

Reinforced hems

Corner reinforced with spurred grommet

Grommets are approx. 18 in. on center

Waterproof, mildew and rot resistance