Firewood Storage Racks, Wood
Firewood rack bracket kits. Build your firewood rack using these high quality plastic brackets that allow you to cut your 2x4s with out any angles.
Viewing

1

to

2

of

2

items
Sort by:
Display
results per page
/category/firewood-storage-racks-wood
9
sku_asc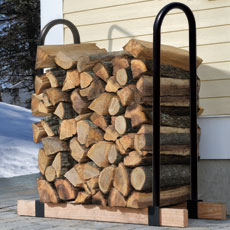 Description:
The Firewood Rack Adjustable Bracket Kit can adjust to a length that fits your firewood storage needs. By purchasing (2) 2' x 4' lumber you can attach the brackets to each piece of lumber and move the brackets to the desired length that can be customized for log storage and organization. This log rack sets up and takes down in a matter of minutes for easy portability.
Adjustable Length - Create your own firewood rack with (2) 2' x 4' lumber cut to size.
Hi-Grade Steel frame - 1-3/8" / 3,5 cm diameter round-tube steel frame with DuPont TM Premium powder coat finish. Resists chipping, peeling, rust and corrosion.
Sturdy Metal Brackets - Two piece bracket and uprights constructed of high grade powder coated steel that looks great and performs better.
Assembly Hardware - Ready to build kit includes wood screws to firmly secure bracket end panel uprights to lumber base.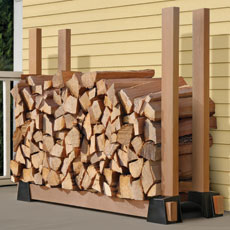 Shipping Included:
Shipping charges are included in the price. Return shipping is the customer's responsibility.
Description:
Adjust the length and height of your firewood rack with a Firewood Rack Bracket Kit. Made with a durable, molded ABS plastic that is tough enough to withstand corrosion, cracking, and peeling from any kind of weather. This is a "tool free" assembly where all that is required is (6) 2'x 4' lumber purchased seperately and cut to your desired length to organize and store wood.
Innovative Design - Specially designed to firmly fit 2 x 4 lumber for a sturdier rack construction.
No Tools Assembly - Tool free easy set up and take down. Cut 2 x 4 lumber to your desired length. Fully adjustable design.
Impact Resistant Polymer -Tough and durable, our brackets are molded ABS plastic that will not rust, corrode, crack or peel and really holds up to the elements.
Purchase 2' x 4' Lumber - (6) 2' x 4' lumber cut to desired length is required to use Firewood Rack Brackets.
Viewing

1

to

2

of

2

items
Sort by:
Display
results per page
/category/firewood-storage-racks-wood
9
sku_asc