Setup Instructions for Frame Fitting with Tarp Canopy
Setting up your new Canopy is quick and Easy!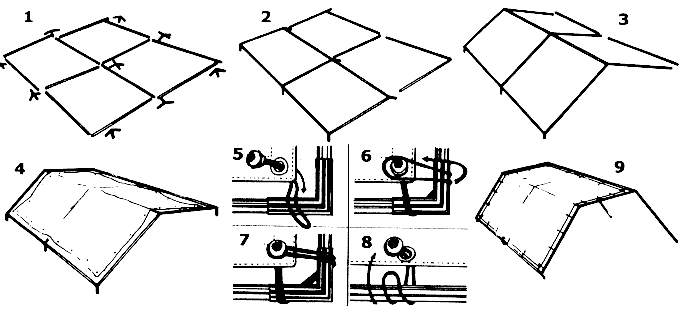 Place All roof pipes on the ground next to corresponding fittings as shown in illustration 1.
Connect all roof pipes and fittings as shown in illustrations 2 and 3.
Drape tarp over assembled roof frame, fastening corners onto the frame first using ball ties as shown in illustrations 5, 6, 7.
Once corners are fastened, place the ball ties through the grommet holes and loop around the pipe as shown in illustration 8.
Lift one side of the roof and insert leg poles into the fittings. Lift the opposite side of the roof and insert remaining leg poles.
Note: it is strongly recommended that all canopies be securely anchored down. Method of securing will vary depending on where the canopy is located. Foot pads are designed to be bolted down to wood or concrete surfaces and duck cable anchors or auger anchors are excellent for ground installations.