Basic Sukkah with 1 inch fittings and Silver Heavy Duty Sun Blocker Tarp
Our basic Sukkah plan is a good size for small families and limited space areas. Our site provides do-it-yourself customers with needed fittings, tarps and accessories to build this shelter. Tubing and roofing materials can be purchased locally.

You can easily change the size of this structure by simply cutting your horizontal tubing to different lengths and using different tarps. Anything over 10 feet in length or width will require additional fittings.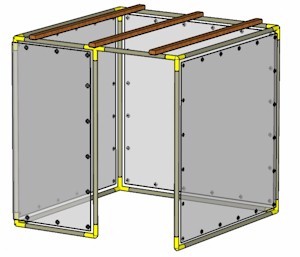 Sukkah Construction
Build your own Sukkah using our heavy duty steel fittings, heavy duty tarps and ball ties. See below for parts and quantities needed to build this 8X8 structure.
Tubing is

not

included due to the high cost of shipping. Purchase EMT tubing at most home building centers.
Roofing made of natural materials can be obtained from your local area. You may want to use a few boards across the top, as shown in the diagram, to lay your roofing material on.
Use menus to select Tubing Size and Tarp options
Quantities required to build this structure are already filled in.
Tarp Order Information
Image
Size / Name
Grommets
Ship Wt
Price
8 x 8 Silver Sun Blocker Tarp, 14x14


Part#: T0808S

25
2.56lbs
8 x 12 Silver Sun Blocker Tarp, 14x14


Part#: T0812S

30
3.84lbs
Fitting Order Information
Image
Name
Tubing Size
Ship Wt
Price
90 deg Flat Corner


Part#: F3-B

1 inch
1.50 lbs
90 deg Elbow


Part#: FL-B

1 inch
1.00 lbs
90 deg Tee


Part#: FT-B

1 inch
1.50 lbs
Optional Accessories Order Information
Image
Name
Ship Wt
Price
Ball Ties 6 inch Black (each)


Part#: BT-B6

0.03 lbs
The Claw Individual Tie-Down anchor includes: 1 aluminum anchor; 3 spikes.


Part#: C-101

3.00 lbs