Sukkah tarp and frame setup instructions
Setting up your new Sukkah is quick and Easy!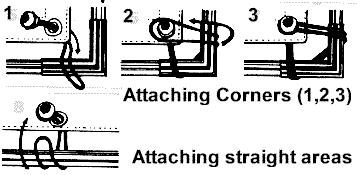 Tubing Required:
8X8 Sukkah
11 pieces of tubing 8 feet long
3 pieces of tubing 4 feet long
Place All pipes on the ground next to corresponding fittings.
Construct the two ends first while they are laying on the ground. Insert tubing into fittings and tighten eye bolts. No tools required.
Attach horizontal bars at the back, this may take some help to hold the ends while inserting pipe and tightening fittings.
Attach front fittings and tubing.
Attach tarps using bungies as shown in figure above. Attach corner ball tie bungees first. Use one bungee for each tarp grommet.
Note: it is strongly recommended that all canopies be securely anchored down. Method of securing will vary depending on where the canopy is located. Foot pads are designed to be bolted down to wood or concrete surfaces and duck cable anchors or auger anchors are excellent for ground installations. Click Here to see what can happen when structures are not securely anchored.
Check out our claw, auger and duckbill anchors on the accessories pages.