Medium Gable Peak Canopy for 1 inch tubing
Canopy Kits include:
All the required Steel Fittings
Heavy Duty Tarp
Ball Ties
Footpads (Optional)
Tubing is

not

included due to the high cost of shipping. Purchase at either a home building center or chain link fence store.
Tarp and Frame Canopies are great for:
Camping
Family Gatherings and Outdoor Dining
Weddings
Temporary Garages for Cars, Boats, and RV's
Saturday Markets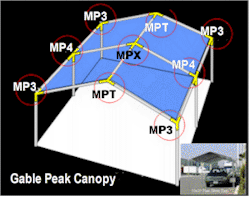 Pictures are intended to illustrate canopy configuration and fitting usage only. Size of canopy will change the number of sections and fittings required.
Tools and Other Information:
Medium Gable Peak Canopy
Tubing Options:
3/4 inch EMT conduit
1 inch EMT conduit (Kits available)
Canopies with sides higher than 8 feet use:
1 3/8 inch chain link fence tubing
1 5/8 inch chain link fence tubing (Kits available)
1 7/8 inch chain link fence tubing
These canopy kits come with steel fittings, heavy duty tarps, footpads (optional) and ball ties. Canopies are great for camping, family gatherings, weddings, Saturday markets or temporary garages for cars, boats and RV's.
Use Menu to Select Tubing Size
View individual fittings at bottom of page
Canopy Kits
Description
Included
Ship Wt.
Price

Part #: KMPS1010BW

Size: 10x10 Feet
Tarp Color: White
Tubing Size: 1 inch

4 MP3, 2 MPT
4 footpads(Optional)
10 x 10 Tarp
30 Ball Ties for Tarp
20.00 Lbs

Part #: KMPS1010BS

Size: 10x10 Feet
Tarp Color: Silver
Tubing Size: 1 inch

4 MP3, 2 MPT
4 footpads(Optional)
10 x 10 Tarp
30 Ball Ties for Tarp
20.00 Lbs

Part #: KMPS1016BW

Size: 10x16 Feet
Tarp Color: White
Tubing Size: 1 inch

4 MP3, 2 MPT, 2 MP4, 1 MPX,
6 Footpads(Optional)
10 x 16 Tarp
40 Ball Ties for Tarp
30.00 Lbs

Part #: KMPS1016BS

Size: 10x16 Feet
Tarp Color: Silver
Tubing Size: 1 inch

4 MP3, 2 MPT, 2 MP4, 1 MPX,
6 Footpads(Optional)
10 x 16 Tarp
40 Ball Ties for Tarp
30.00 Lbs

Part #: KMPS1020BW

Size: 10x20 Feet
Tarp Color: White
Tubing Size: 1 inch

4 MP3, 2 MPT, 2 MP4, 1 MPX,
6 Footpads(Optional)
10 x 20 Tarp
44 Ball Ties for Tarp
32.00 Lbs

Part #: KMPS1020BS

Size: 10x20 Feet
Tarp Color: Silver
Tubing Size: 1 inch

4 MP3, 2 MPT, 2 MP4, 1 MPX,
6 Footpads(Optional)
10 x 20 Tarp
44 Ball Ties for Tarp
32.00 Lbs

Part #: KMPS1030BW

Size: 10x30 Feet
Tarp Color: White
Tubing Size: 1 inch

4 MP3, 2 MPT, 4 MP4, 2 MPX,
8 Footpads(Optional)
10 x 30 Tarp
58 Ball Ties for Tarp
44.00 Lbs

Part #: KMPS1030BS

Size: 10x30 Feet
Tarp Color: Silver
Tubing Size: 1 inch

4 MP3, 2 MPT, 4 MP4, 2 MPX,
8 Footpads(Optional)
10 x 30 Tarp
58 Ball Ties for Tarp
44.00 Lbs

Part #: KMPS2020BW

Size: 20x20 Feet
Tarp Color: White
Tubing Size: 1 inch

4 MP3, 2 MPT, 2 MP4, 1 MPX,
6 Footpads(Optional)
20 x 20 Tarp
58 Ball Ties for Tarp
37.00 Lbs

Part #: KMPS2020BS

Size: 20x20 Feet
Tarp Color: Silver
Tubing Size: 1 inch

4 MP3, 2 MPT, 2 MP4, 1 MPX,
6 Footpads(Optional)
20 x 20 Tarp
58 Ball Ties for Tarp
37.00 Lbs
Canopy Fittings
Image
Name
Tubing Size
Ship Wt
Price
Foot Pad


Part#: FP-B

1 inch
1.00 lbs
Medium(110 deg) Peak Corner


Part#: MP3-B

1 inch
1.50 lbs
Medium(110 deg) Peak Side


Part#: MP4-B

1 inch
2.00 lbs
Medium(110 deg) Peak End


Part#: MPT-B

1 inch
1.50 lbs
Medium(110 deg) Peak Center


Part#: MPX-B

1 inch
2.00 lbs