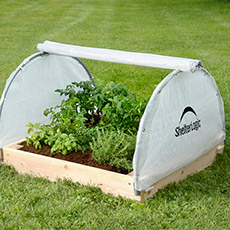 GrowIT® Round Raised Bed Greenhouse
Model #: 70617
Description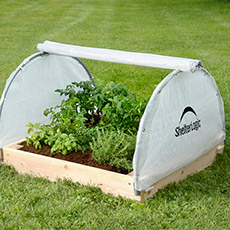 Grow and protect plants with this raised bed greenhouse. The compact size and sturdy build makes it perfect for starting seeds and extending the growing season.
Frame
1" / 2,5 cm high-grade steel frame with DuPont™ Premium powder coat finish resists chipping, peeling, rust and corrosion.
Specially designed brackets eliminate measuring and allow mounting to any type of raised bed frame.
Cover
Triple-layer, heat bonded ripstop translucent cover is waterproof and UV-treated inside and out. The cover provides enhanced illumination designed specifically for plant growth and protection.

Roll-up cover provides airflow and temperature control. Tension ropes hold the cover in any position from fully closed to fully open to allow desired flow. Tie wrap fasteners hold sides to frame.
Package Includes
(1) 4 x 4 x 1 ft. 11 in. / 1,2 x 1,2 x 0,6 m 2 Rib All Steel Frame
(1) Translucent Polyethylene Cover
(2) Translucent Polyethylene Cover Side Covers
Complete Hardware Kit
Easy Step-by-Step Instructions
Product Specifications
Total box weight: 18.05 lbs. / 8.19 kg
1 Box
Specifications
Color:
Translucent Polyethylene Cover
Shipping Included:
Shipping charges are included in the price.