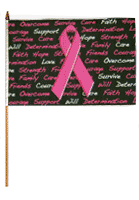 Breast Cancer Inscription Stick Flag, 12 in x 18 in
Model #: BCI12X18
Description
Our 12x18 inch Breast Cancer Stick Flag is perfect for decorating or for waving in a parade to show your national pride. Mounted on a 24 inch wooded stick with a golden plastic spear top. Made from 100% polyester and printed in bright colors. Each flag is individually sewn around the edges.
Specifications
Special Information:
To honor Breast Cancer Awareness Month we are offering these flags at a discounted price and for every flag sold, we will be donating $2.00 to Breast Cancer Research.